A Few Favorite Shops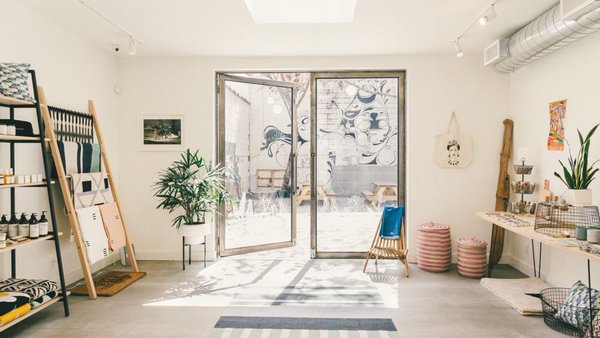 Maybe it's because the holidays are just around the corner or because I've been discovering some amazing new shops lately, but I wanted to share some of my favorites stores in New York that not only have amazing products but an equally amazing space to hold them. Check out my deets below :)
Tom Dixon: New to Manhattan, this cult British brand has nestled itself just perfectly into the NYC retail world and with some differentiation to boot. The moment you walk into the store you feel like you might like an espresso, a coffee table book, and your most sophisticated friend to gab endlessly with. The space is chic and modern yet still inviting, perfectly complimenting its products that are full of innovation and attention to detail. Be prepared to be inspired to fully redecorate your apartment around Tom Dixon's new store & products at 243 Centre Street.
ABC Carpet & Home: I still remember the first time I entered this store and it has been a essential stop for anyone I give a tour to. ABC Carpet & Home is seven stories of some of the most amazing home pieces. But it's so much more... It's its own world. Full of whimsical aromas, beautiful fabrics and carpets, an even an amazing restaurant inside, it's almost like being transported to another country. Also, keep an eye out for celebs as I ran into Blake Lively while showing my mom around! Block out at least an hour to explore at 888 Broadway.
9th St. Haberdashery: A new find on my vintage list, this store holds carefully curated vintage pieces with everything from delicate lace dresses to embroidered silk jackets, even perfect denim and essential worn in tees. The shop has a feeling like you're in your most fabulous grandmother's closet (minus the cobwebs), bright and charming. Owners Stacey and Meridith have some amazing experience in the vintage industry and will find you pieces that are quintessentially you while setting you apart from the rest. Visit them at 346 E. 9th St.
Concrete + Water: Next stop, Brooklyn. C+W has a special place in my heart as it was started by my a close friend and fashion aficionado, Hannah Dilworth, along with fiancé DJ Guckstern. Centered in the heart of Williamsburg, the space is clean and open, artfully displaying unique brands and products not often found in the city. As you walk to the back, you'll discover an amazing backyard that's home to designer trunk shows, parties, and concerts, nonetheless inviting you to stay a while. Just off the L, check them out at 475 Driggs Avenue, Brooklyn.
Electric Nest: It's not often you find a modern designer so attune with design and what women want to wear. Leana Zuniga designs pieces that aim to transition from day to night and even between seasons. She uses unique fabrics and innovative silhouettes that sets the brand apart from the rest. And the space Electric Nest compliments the brand it holds just perfectly. The warm and welcoming space encourages you to explore the designs' and space's intricate details. Make the trip to 60 Broadway, Brooklyn and you won't be disappointed.
xx
e