Short Story of an Outfit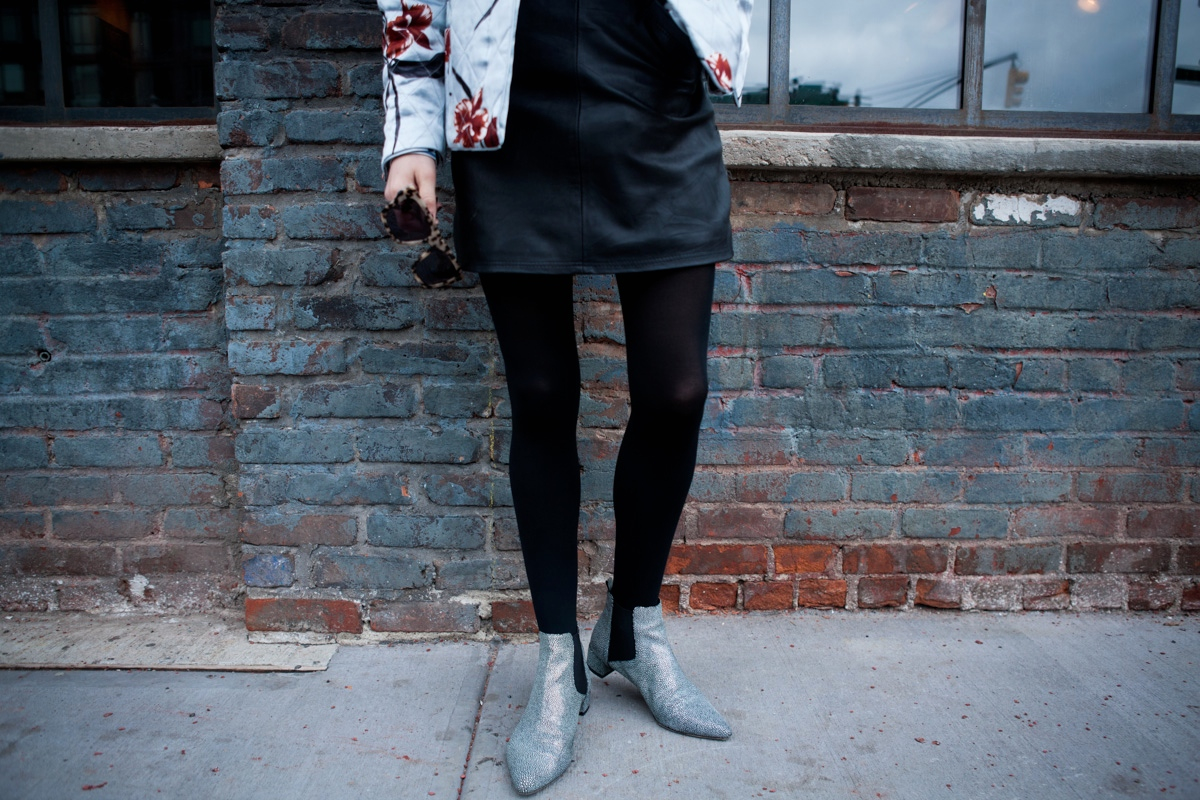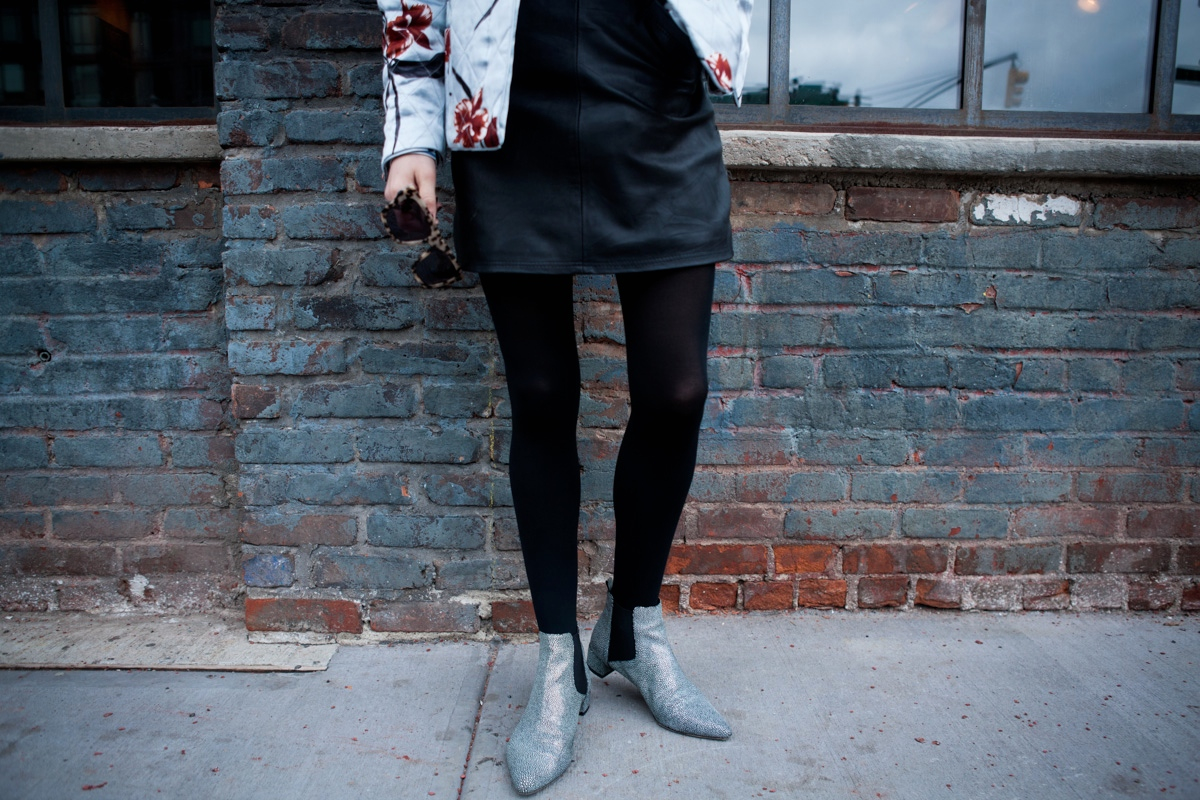 Ganni Bomber and Blouse / Awoke Vintage Leather Dress (similar or here) / Falke Tights / Miista Boots / Aldo Backpack / Alibi Earring / Pared Sunnies
The Outfit.
Still sifting thru photos of copious street style outfits as Paris Fashion Week slowly comes to a close.... Though I didn't make it this year to that beautiful city, I still managed to have a bit of fun with my looks during NYFW. This one included. Famous for their reworked leather, Awoke Vintage churned out this leather "overall dress" that was basically needs to worn immediately by Alexa Chung. (Am I right?!) Needless to say, I knew I needed it the moment I saw it. But what to pair with it? A stray away from the typical neutral, I played with patterns in my favorite color (besides black, white, grey and beige of course), blue. A thin striped blouse against a shiny, silky, floral printed bomber were just the additions that this dress needed to be taken to the next level.
The Shoe.
Nothing goes with a mini more than pointy-ass boots. These things are leathal and lovely. The pebbled and somewhat metallic nature on these Miista booties are everything I'm looking for in a cool shoe that takes you thru every season seamlessly. Leg-elongating, man-repelling, and easy on the eyes? I'll take 'em.
The Bag.
While we like to look at most FW images and think that the fashionistas are running thru these crazy days with nothing more than a matchbox sized clutch.... don't forget their Escalades parked around the corner holding the contents of the rest of their purses. For us NY ladies who don't have the luxury and/or who value the (usual) timeliness and savings of the Subway, we get resourceful with our carryalls. Insert, the backpack. While I love a good old school Jansport, the backpack made a comeback in the streetstyle scene a few years ago in a much chicer and elevated form. I love how this Aldo one is super structured, minimal, and black of course. I can virtually wear it with anything and it fits just about everything from an extra pair of sneaks to dry shampoo.
The Accessories.
Last but not least, those little pieces that add the perfect final touch. I typically neglect the jewelry area as a bit of minimalist but these earrings could not not be worn. They're the kind of earring that you wear while Stairway to Heaven plays in the background of your entrance. And paired with some wild cheetah, flat-top sunnies, I was airing on the edge of feeling like a total rockstar.
Welp. I just gave you my life story into that look. It was a favorite and I hope you enjoyed it, too :) Shop the links til you drop, ladies. Shop til you drop.
xx
e
Photography by Becky Siegel